Dryer Vent Cleaning
Are You One Laundry Day Away From A House Fire?

Does your dryer take longer than one cycle to dry your clothes?
Does the dryer get extremely hot on top while running?
Is there lint collecting behind the dryer or around the exhaust pipe?
If you have answered yes to any of these questions, please call or email us today for a free quote.
Cleaning Your Clothes Dryer Exhaust Duct Is An Important Service.
If you notice that your clothes are taking more than one cycle to dry, or if your dryer is becoming excessively hot to the touch, you most likely have a build up of lint and debris in your ducting. Lint build up catches the water vapor from your dryer and prevents the heat to exhaust properly outdoors. This is a serious problem. This will not only burn out your dryer, but it can cause a fire, water damage, health risks, and higher electrical costs.
Our Service Includes: Cleaning, Installation And Repair Of Dryer Ducting
We begin by removing the duct from the dryer and attaching our vacuum to the vent pipe. Starting from the outside vent door, we run our ductwhip down the line to snake out the entire vent pipe working our way back to the spot where our vacuum is attached.
We will supply you with general information about the different styles and configurations of dryer ducting found in various types of condominiums, townhouses, single homes and some commercial buildings.
Most dryer exhaust ducting requires a regular maintenance program. We can develop a maintenance schedule that is tailored to your particular type of ducting and structure.
"How often does my dryer duct need cleaning?" This is a question that we cannot answer until we have investigated your situation. It depends upon usage and setup.
"Where and how do the fires start?" Fires start in the clothes dryer and not your dryer duct, and as a rule, a fire in the dryer starts from a spark in the clothes dryer. Metal, excessive heat from lack of air flow, and flammable lint is the perfect combination for disaster.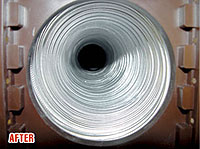 Important Tips:
Do not store your fire extinguisher on top or around your dryer. You will not be able to get to it in the event of a dryer fire.
If another company says they can clean your dryer duct from the outside without coming inside or they can clean without removing the ducting from the dryer, you will not have a clean dryer duct and pushing lint into the dryer can result in damaging the dryer.